Thinking to take the airport management course? You are in the right field. Airport operations are on the rise, especially in India and across the world.
Despite the Covid-19 pandemic, the aviation industry has recovered well, and airline operations are resuming normalcy. The growth of the aviation sector has opened up new opportunities in airport management.
Airport management aims to ensure smooth commercial operations of airports across the world. An airport management team has different professionals who have done different aviation courses and airport courses.
The field of airport management is highly lucrative and attracts numerous people. Here we offer insights on all one needs to know about airport management courses.
Overview of airport management
Airport management is one branch of aviation management aimed at managing the smooth operations of airports in the world. One needs to do an airport management course to work in airport management.
The airport management team, led by an airport manager, is responsible for running an airport, maintaining security, and providing amenities that support airline operations in the aviation industry.
Due to the nature of aviation management, personnel involved in airport management have to collaborate with each other. So, an airport manager typically works together with other airport managers to understand various issues faced in the industry and how they are addressed.
Different personnel within an airport collaborate to ensure airlines operate well. To have a career in this exciting field, one needs to do an airport course on management.
Overview of airport management course
An airport management course is an aviation course that helps one to learn about aviation management and airport management. In the course, one learns about interesting topics relating to airport management and aviation management, like safety, civil aviation law, industry operations, airline operations, airport security, managing the airfield, airport businesses, airport finances, and suchlike.
Airport management courses prepare students to work in the future in any airport in the world. Therefore, airport management courses are suitable for students who would like a flexible job profile in the aviation industry.
Eligibility for airport management courses
Students must meet the eligibility criteria set by the top colleges offering airport management courses before enrolling in an airport management course. Only students from the 12th with any stream from a recognized board qualify to do an airport management course.
Students who have met this qualification can apply to one institute among the several top Indian institutes offering airport management courses. Notably, the application requirements differ depending on the college. Some top colleges require students to pass entrance examinations despite meeting the eligibility criteria. The entrance examinations are discussed in detail later on.
Course duration
An airport management course typically lasts around 11 months in India. During this time, students acquire the knowledge and skills required to work efficiently in an airport management team. Students get expert training from qualified personnel that creates a platform for having a successful career in airport management.
Course syllabus
An airport management course covers aspects necessary for operating an airport. Top colleges in India have an interesting syllabus that covers a wide array of topics on customer service, cargo management, emergency procedures, safety, communications skills, and personality, just to mention a few.
The syllabus aims at improving the knowledge and skills necessary to work in airport management. Students in these courses are taught about the different sectors of the aviation industry and the factors affecting airline operations.
The first few months of the course take one through the basic concepts of airport management, like communication skills, aircraft maintenance, management process, airport operations, and soft skills.
The first sections of the syllabus are dedicated to honing the skills necessary for becoming a good manager in the aviation sector. The later semesters expose students to more complex subjects like aviation law, customer service, organizational behavior, cargo management, cabin crew management, maintaining security, airport housekeeping, and airline operations.
However, students learn more about their future roles in the later semesters of the airport management course syllabus. Later on, in the courses, there are also opportunities to get a placement at an airport or other aviation-related businesses.
Notably, the airport management course gives students the practical exposure necessary to work in an airport. Students will participate in group discussions that increase collaboration and communication skills.
Additionally, students will learn interview skills and gain the personal development necessary for exploiting available job opportunities. Therefore, a student who takes an airport management course becomes equipped to find employment opportunities upon successful completion of the course.
Career opportunities in airport management
There are several career options for students who take airport management courses from one of the top colleges offering courses in this field. Students considering enrolling in the course should not feel daunted by the fear of lacking employment opportunities.
The aviation industry is expanding in India at a rapid rate. Even during the Covid-19 pandemic, institutions offering the course did not register a decrease in students because of the job openings in the field. Some organizations which hire students who have done airport management include domestic airports, international airports, airlines, and the civil aviation authority.
So, if you are in 12th and considering your next move, the airport management course is suitable for guaranteeing a steady career with several jobs all around the world.
Specific jobs and roles
There are several jobs that someone can do upon successful completion of the airport management course. Top recruiters look for students who have done well in the course and recruit them to work in different roles in the aviation sector. Below is a complete list of the jobs available in this career:
Airport ground staff: airport ground staff, are responsible for all airport ground handling. The ground staff helps customers with all their questions and customer service before they board an aircraft. It is also the ground staff that welcomes customers to the airport and helps them with the check-in process. Consequently, airport ground staff are essential to airline operations.  
Airport customer service: personnel in this role help customers with any questions they have over the phone, by email, or on social media. Customers may need help with issues like bookings, refunds, airline operations, and other queries customers have.
Cargo management: employees in this role manage the cargo at the airport. They load, unload, secure, and move airplane cargo. Cargo management employees help the airline maintain the weight requirements of an aircraft by loading the aircraft to acceptable limits. Additionally, employees in this department ensure fragile cargo are safe during air transport.
Safety management personnel: these employees ensure that all airline personnel for different airlines in the airport are trained on safety. Employees in this department ensure that airport safety is maintained at all times by conducting safety training. 
Airport manager: the airport manager is the overall boss in airport management. Someone who takes an airport management course can ultimately become an airport manager at one of the domestic or international airports. The airport manager is responsible for smooth airport operations and airline operations in an airport on a daily basis.
Flight crew: a course in airport management can also open doors to a career as an air hostess that works closely with commercial pilot license personnel to ensure a smooth flight. A commercial pilot license is necessary for airline commercial flights.

However, a commercial pilot license does not guarantee passengers will be satisfied with the flight. Commercial operations require an air hostess to handle all the needs of passengers alongside cabin crew. Therefore, any student who wants to be an air hostess should enroll in an airport management course.
Required skills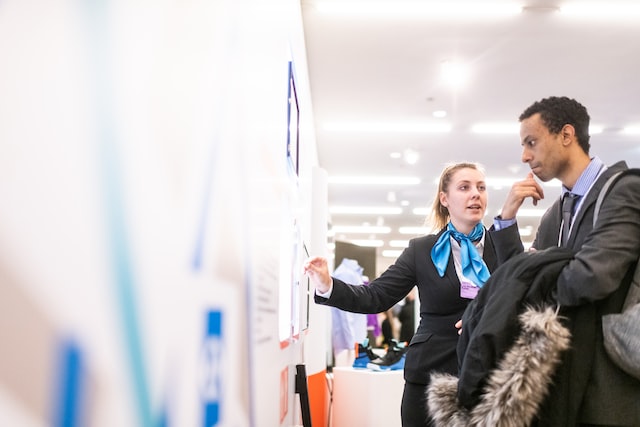 Successful airport management personnel requires certain skills. Although airport management courses hone these skills, it is beneficial to know them beforehand and attempt to develop them.
Field knowledge – one needs knowledge of the aviation industry, airline operations, airline management, aviation safety, airport management, and all other relevant knowledge in the field. One also needs knowledge of aircraft maintenance, monitoring, and analysis skills.
Interpersonal skills – interpersonal skills are necessary as you will work with others. Skills like communication skills, emotional intelligence, situational analysis, and respect for others are necessary. Communication skills play a crucial role in gaining information, evaluating it, and communicating effectively to sustain safe operations in the airport.
Positive attitude – and aircraft manager requires a positive attitude as they interact with people in airports. The airport management courses offer insights on how one can maintain positivity by delivering their roles perfectly and influencing others in the industry to do the same.
Work ethic – aviation industry is fast-paced. To have a successful career in this industry, one needs to choose a job that suits their skills and give their best to progress despite the several job opportunities. 
Admission procedure to airport management courses
To gain admission to airport management courses, students have to fill out the AME CET 2023 form. Then, students have to clear the AME CET exam. The student's rank in the exam will guarantee admission into one of the top colleges offering airport management courses in the country.
Fees
Airport management courses require payment of fees like any other courses offered in colleges. The structure for fees varies from one college to the next, depending on the location and facilities. AME CET offers students admission to different institutions.
However, the fees typically range from 1 lakh to 1 lakh and fifty thousand for the whole course. A student may opt to pay hostel fees separately depending on their hostel preferences.
Airport management salary
Salaries in airport management range based on the following criteria. Foremost, the job profile is an integral part of the salary offered to one upon successful completion of the course.
Not to add, factors like skills, organization, education level, and experience determine the salary provided. Top recruiters look for skilled candidates in aviation to pair with the best-paying organizations.
Top airport management courses
Having understood the various aspects of airport management courses, it is necessary to now zone in on specific courses in airport management. This section mentions some specific courses to give students an idea of the various career paths they can choose depending on their interests and skills.
BBA in Airport Management
This is the most opted course in airport management. Hence it is discussed first. In this degree course, one learns various technicalities of airport management at the intermediate level.
Topics like airport operations, staff management, cargo management, and airline operations form the bulk of this program. Students need to have passed the 12th grade with at least 60 percent of the marks.
The course spans 3 years. Students from the commerce stream in 12th grade have higher chances of qualifying for this course, especially if they have met the sixty percent pass mark. Additionally, students need a 10+2 pass from a recognized board.
Admissions to the BBA in Airport Management courses are made based on merit, depending on the marks scored in class 12th. What is more, some top institutions require that students pass entrance examinations like graduate management admission tests before gaining admission to the program.
Diploma in Airport Management
The other course in airport management is a diploma in airport management course. The main focus of this aviation course is airport ground handling, ticketing, and other airport operations.
To qualify for this course, students need to clear class 12th with a minimum of 50 percent in any of the three streams. The course typically lasts one year, like other diploma courses, but the duration may vary from college to college.
Admission to a diploma in airport management differs from admission to a bachelor's in airport management. For diploma airport management courses, students need to get the pass mark highlighted above.
Then, students can either opt for admission through the management quota, which has limited slots or goes through an interview process or entrance exam based on the institution.
Diploma in Airport Ground Handling
The other common course among diploma courses in aviation management is a diploma in airport ground handling. The course requires six months of classroom training and three months of internship in any airport.
The minimum requirement to apply for this course is clearing 12th from a recognized board with a minimum of 50 percent. One must also be between 18 and 28 years to apply to this course.
Male candidates should be 5 feet 5 inches, and female candidates should be at least 5 feet 2 inches. Additionally, applicants need to be fluent in Hindi and English to get better job opportunities.
MBA in Airport Management
The last course one can opt for in airport management is MBA in airport management course. It lasts two years and covers aviation management at an expert level. Students who take this course find work in high-level positions like management and supervisory levels.
A candidate must be a graduate of any discipline to qualify for this course. In addition, one must pass entrance exams like a management aptitude test, a common admission test, or a graduate management admission test.
Admission requires students to pass the common admission test and a degree from a recognized board. On top of that, most schools conduct independent aptitude tests, group discussions, and personal interviews.
Therefore, interview skills are important for students applying for this airport management course. Cumulative scores can also guarantee qualification for the course.