Energy storage has been one of humanity's most difficult problems, and they have had a long past to search for solutions. Lithium batteries (UN 3481), as a solution to this problem, have gained appeal due to their great capacity and effectiveness in storing electricity. They are used in a variety of goods in our daily life, including computers, watches, cell phones, and electric cars. These goods help us in carrying out our regular responsibilities and should be carried.
The UN (United Nations) number shipping name UN 3481 is used to describe lithium-ion batteries that are packed with equipment. The International Civil Aviation Organization's "Technical Instructions for the Safe Transport of Dangerous Goods by Air" paper and the IATA's "Dangerous Goods Rules (DGR)" document establish severe regulations to ensure and help safe aerial transportation.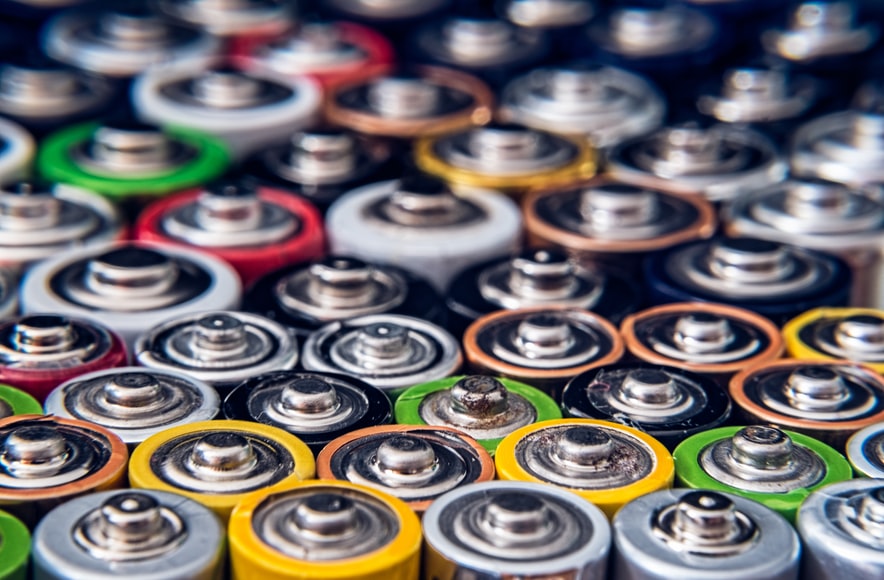 Global Regulators
ICAO (The International Civil Aviation Organization)
As a signatory state to the Chicago Convention in 1944, it is sponsored and directed by 193 sovereign governments to support their diplomacy and cooperation in aerial transportation.
As the only worldwide body with legal authority to adopt standards, its primary mission is to maintain an administrative and expert bureaucracy to support diplomatic exchanges, as well as to explore new aerial transportation policy and standardization innovations.
Annex 18 to the Convention on International Civil Aviation contains the fundamental rules governing the global transportation of dangerous items by air.
Annex 18 deals with the safe transportation of dangerous goods. In general, it sets down broad principles but one of the Standards requires that dangerous goods are carried in accordance with the Technical Instructions for the Safe Transportation of Dangerous Goods by Air.
IATA (International Air Transport Association)
It is the world's airline trade group, representing 290 carriers and 82 percent of worldwide air travel.
It helps to create industry policy on major aviation issues and supports various sectors of aviation activity.
The Dangerous Products Regulations (DGR) document is used by airlines, freight forwarders, ground handlers, and shippers to ensure that dangerous goods are carried safely and efficiently.
Limitations, classifications, packing procedures, and handling of dangerous goods can all be found within the DGR. In addition to DGR, IATA releases LBSG guidelines for lithium battery shipping (Lithium Battery Shipping Guidelines).
Lithium Batteries as Passenger Luggage
Lithium-ion batteries contained equipment such as power banks, cell phone charging cases, researchable or non-rechargeable items subject to regulations. Li-ion batteries contained in equipment are the most related products.
While 3480 (li-ion, uninstalled) batteries must be carried in carry-on luggage, only li-ion batteries packed with equipment can be carried in checked baggage.
Portable electronic gadgets powered by li-ion batteries must be entirely turned off and secured when transported in checked baggage to avoid unintended activation or damage.
Heating elements in electrical equipment capable of generating excessive heat (which, if activated, could create a fire) must be isolated by removing the heating element, battery, and other components.
The FAA name necessary passenger regulations in 49 CFR.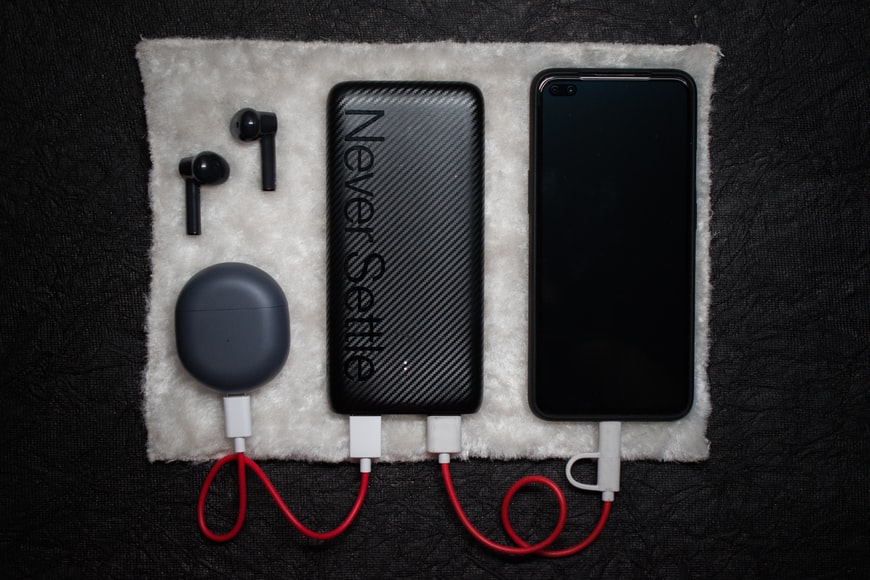 Limits and Requirements
Quantity Limits
Except for some larger batteries, there are no restrictions on the number of products that can be used for personal use. These are batteries used in personal electronic gadgets.
Batteries for sale or distribution are prohibited no matter the number of them. For larger batteries with capacities ranging from 101 to 160 Wh, each person is limited to two spare batteries.
Batteries should be safeguarded against harm, such as short-circuit protection for connections.
Size and Weight Limits
The lithium metal (UN3090-3091) batteries have a lithium content limit of 2 grams. Li-ion batteries have a maximum capacity of 100 watt-hours. Almost all types of electronic gadgets used by passengers are permitted under these regulations.
Protection
Operators should provide necessary information about safety requirements to passengers and the safe use of these products.
Operators should provide special training and additional information to crewmembers within this frame and search for new ways for improvement:
The hazards associated with dangerous goods.
Safe handling of dangerous goods.
Emergency response procedures for dangerous goods incidents.
Lithium Batteries as Cargo
Lithium batteries were born in the 1960s and their popularity increased with the advancements they had over the years. Lithium Batteries have a broad range of variations with different chemistries and the term refers to all of them. Today they are carried globally by aircraft and airlines and that means a high number of rules.
In the IATA DGR, they are classified into two types: lithium metal batteries and lithium-ion batteries.
Lithium-ion and lithium metal batteries are dangerous goods that must be transported in compliance with applicable safety regulations.
These batteries are batteries with lithium metal which is used as the anode. They are generally non-rechargeable primary batteries.
These batteries are good at storing energy for long periods of time, which is why they are commonly used in electronic products such as watches, cameras, vehicle keys, calculators, and so on. UN numbers are used to categorize these batteries.
UN3090 describes lithium batteries shipped by themselves. UN3091, on the other hand, refers to batteries contained in equipment or packed separately with a piece of equipment in order to power that device.
Lithium-Ion Batteries
Lithium-ion batteries are rechargeable batteries found in laptop computers, mobile phones, off-the-shelf drones, and other electronic devices with rechargeable batteries. Along with lithium-ion batteries, this category covers lithium polymer batteries.
Lithium-ion batteries have high discharge and charge efficiency, which extends their life and allows them to deep cycle.
During discharge, ions travel from the negative electrode to the positive electrode in lithium-ion batteries. They have a high energy density, which is why they are utilized in so many modern gadgets.
UN3480 name describes the lithium-ion batteries shipped by themselves. UN3481 on the other hand describes lithium-ion batteries contained or packed separately with a piece of equipment to power that equipment.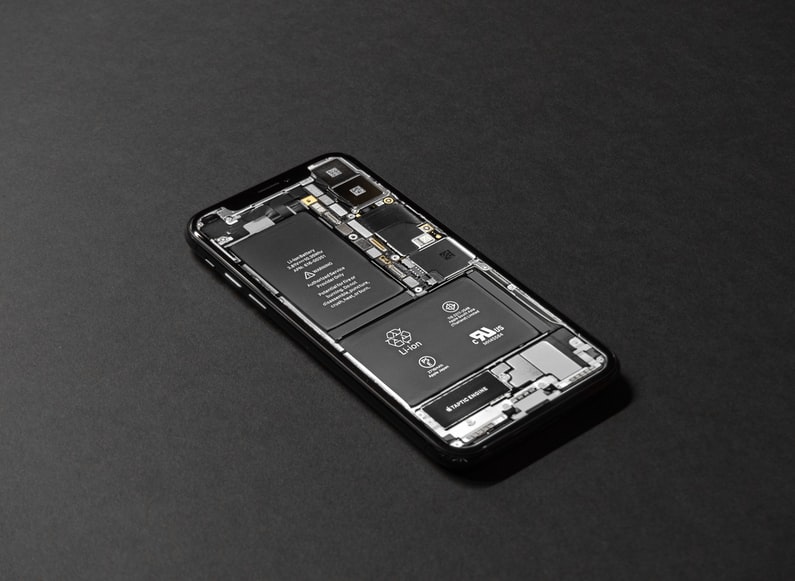 Regulations Regarding Lithium Batteries as Cargo
The regulations in this chapter are those regulations imposed by the previously listed documents.
Lithium batteries are highly flammable and can catch fire during flight for shipping, hence they should be handled as cargo under rigorous conditions. When a li-ion battery short circuits (usually due to terminal contact), is overcharged, heated to extreme temperatures, crushed, or dropped, it can ignite.
Because lithium batteries are regulated as hazardous materials for shipping them by plane, so packaging with specific hazard labeling and specific documents certifying compliance with the applicable regulations are required.
Regulations differ depending on which sort of battery shipping it is or if you are shipping batteries inside equipment or not.
Protecting Lithium Batteries
The same general restrictions that apply to other batteries apply to lithium batteries. When batteries are being readied for shipping, all connections should be shielded to minimize short circuits, which can result in sparks and fire. For terminals, non-conductive tape or a cape might be used to avoid contact.
The terminals of the battery should be isolated with non-conductive material.
Batteries should be away from metals that can cause terminals to contact.
They should be carried properly to avoid any physical damage.
Recalled or recycled are forbidden from aircraft shipping.
Care should be taken as necessary.
Prohibitions
Shipping all kinds of lithium batteries by themselves (lithium-ion batteries-3480 or metal batteries-3090) are forbidden to ship in passenger aircraft. Shipping of these must use "Cargo Aircraft Only" labels.
It is prohibited to ship batteries that have been recalled by the manufacturer for safety reasons (damaged or for service).
Restrictions
Shipments of UN3480 lithium-ion batteries, along with lithium-polymer type batteries, must be offered for shipping at no more than 30% of their rated capacity. Cells and/or batteries in a state of charge greater than 30% of their rated capacity may occur only the authorities of the State of Origin and the State of the Operator have approved underwritten conditions.
Packing Restrictions
PI 965 & PI 968 Section IA & IB
Shippers of UN3480 lithium batteries, including lithium polymer batteries, and UN3090 lithium batteries are not permitted to offer for transport more than one Section II package in any single consignment or more than one Section II package per overpack under Section II provisions (for Packing Instruction PI 965 and PI 968).
Regulations Regarding Labels while Shipping Unsafe Class Items
Under the regulations, li-ion or metal batteries can be classed as stuffed alongside equipment o contained in equipment.
Since 2019 shipping Class 9 lithium batteries in the following figure special label provide information is within requirements.
Li-ion With Equipment
This supplementary mark within requirements should be used: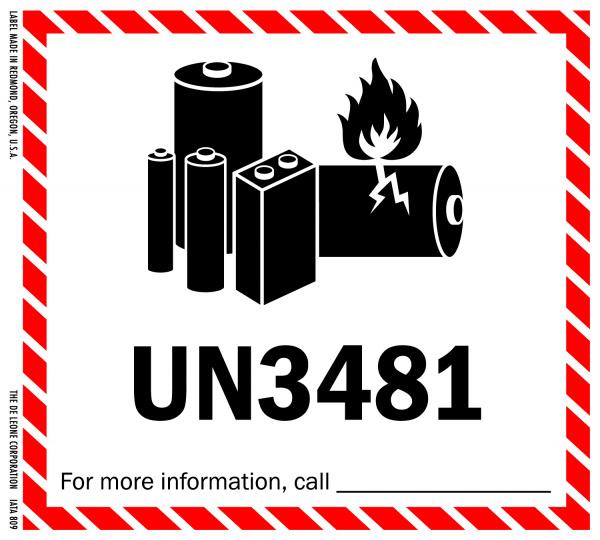 The supplementary mark is not among requirements if:
The package contains no more than 4 cells or 2 batteries.
The consignment contains no more than two packages of li-ion batteries in equipment.
Use the following label to comply with requirements: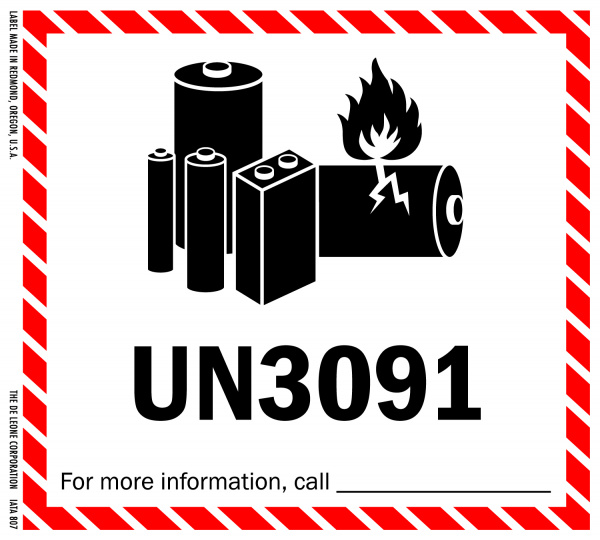 The supplementary mark is not needed for the same reasons the last chapters address.
Cargo Aircraft Only
As mentioned in regulations one may not use passenger aircraft for shipping batteries by themselves without equipment. This kind of shipping should have cargo aircraft only label to comply with shipping rules.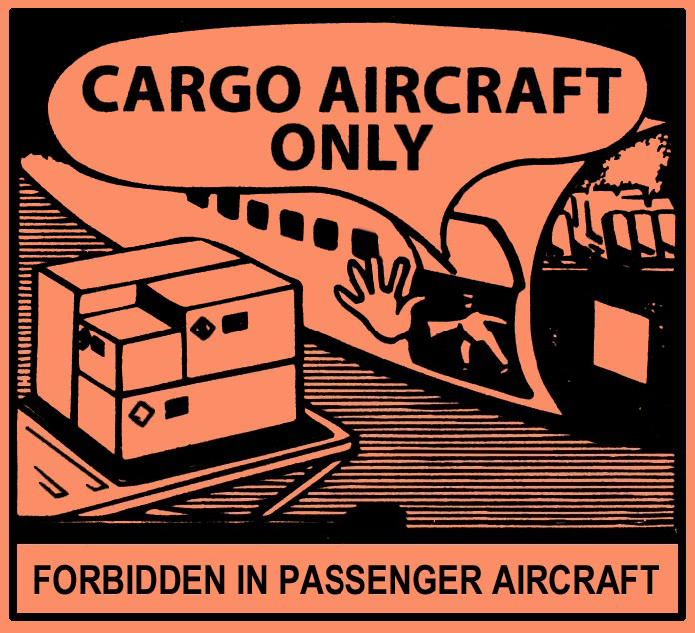 If you are interested in further information and help with the combination of marks used in shipping please refer to the IATA site to find the current DGR.
Frequently Asked Questions:
What is UN3481?
It is a UN code that represents Li-Ion batteries carried in their equipment. Such as laptop or mobile phone battery.
What kind of battery is UN 3481?
They are Li-Ion batteries that are carried inside the equipment.
What is the difference between 3480 and 3481?
Both of them are Li-Ion. 81 refers to batteries with equipment's while 80 refers to ones shipped by themselves.
Please be aware rules and data presented here are from 2021. The first chapter provides the name of the authorities responsible.